WELCOME TO
SILICON CARBIDE PRODUCTS, INC.
SCProbond™
N SILICON NITRIDE BONDED SILICON CARBIDE
SCProbond™
R REACTION BONDED SILICON CARBIDE
Silicon Carbide Products, Inc
A custom-crafted approach to every ceramic component project


Since 1994, Silicon Carbide Products, Inc. (SCP) has provided industrial customers with high quality, high performance ceramic components for use in coal-fired power plants, molten non-ferrous metals, mining, petroleum, and large component applications. We are known for the outstanding performance of our SCProbond™ silicon carbide materials and for our high level of customer service and satisfaction. A key component of SCPs success is our custom-crafted approach to every ceramic component project.
The SCProbond™ Advantage
High quality silicon carbide materials and components you can count on.
Silicon carbide is a synthetic material that exhibits high performance characteristics including: high hardness approaching that of diamond, high strength (gains strength at temperature), excellent chemical resistance, excellent thermal shock resistance and excellent wear resistance.
However, unlike metals and their alloys, there are no standardized industry performance criteria for silicon carbide. With a wide range of compositions, densities, manufacturing techniques and company experience, silicon carbide components can differ drastically in consistency, as well as mechanical and chemical properties. Your choice of supplier determines the level and quality of the material you receive.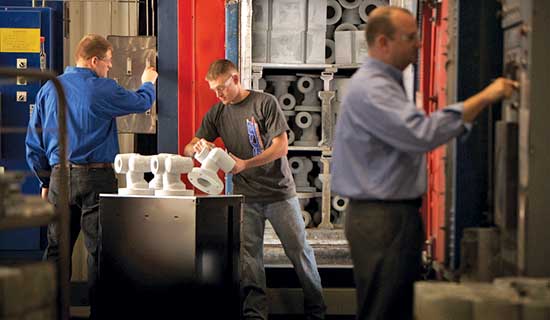 What can customers expect from SCP?

Come see us at Booth 2807
Come see us at Booth #2000